President Trump spoke today regarding overnight. The President confirmed what many in the market already knew: there was minimal damage and no lives were lost. President Trump also did his best to extend a peace offering to Iran, saying that the US does not want war, but rather peace. As a result, optimistic, but cautious, markets felt they were given the green light to continue to buy stocks. are closing in on the all-time highs of 3263.5.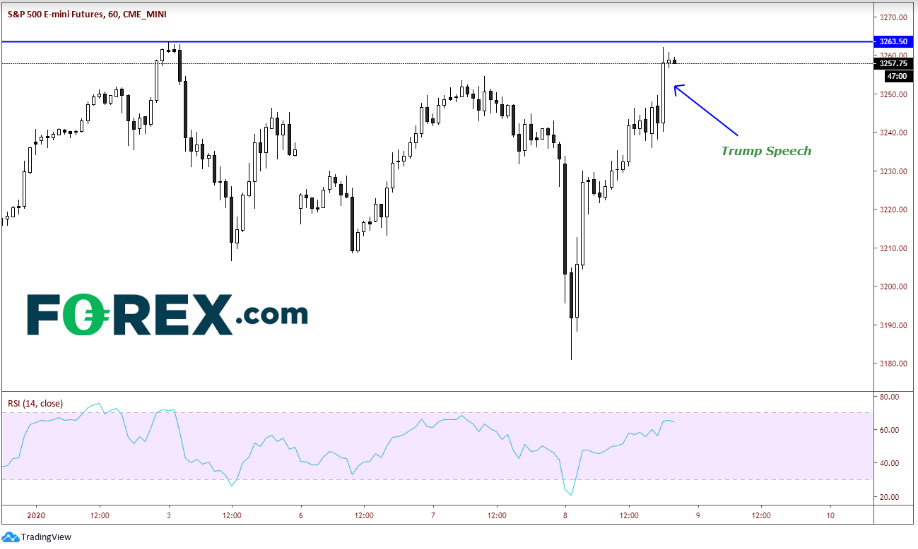 Source, Tradingview, CME, FOREX.com
As a result of the risk-on move in stocks, followed suit. The pair is up .65% on the day, however it is also up 150 pips off its lows. The daily candlestick shows an extremely bullish outside day candle, as it shot higher through the 200-day moving average near 108.64. This level had capped the market the previous 3 days.
Source, Tradingview, FOREX.com
Technically, on a daily timeframe, we have looked at a few difference ways over the last few months. First, we viewed it as a failed inverted head and shoulders pattern, as it briefly broke through the neckline near 109.50, but failed to hold above it. Next, we looked at as a failure to break through the 61.8% Fibonacci retracement level from the highs on April 3 to the lows on August 26th near 109.36. Finally (and this may still be the case), we viewed it as a rising wedge of the lows, which broke lower out of the wedge on December 30. The retracement a rising wedge is 100% of the wedge, which would target near 104.50.
On a 240-minute timeframe, we can see that the pair fell below a rising trendline from early November, only hold support at the 38.2% Fibonacci retracement level from the August 23 low to the November 29 highs at 107.70. This shallow retracement allowed for price to rebound back through the rising trendline today. is currently holding just below horizontal resistance near 109.15. There are multiple resistance areas between 109.35 and 109.70, including the rising trendline on the daily and the band of resistance from previous levels. Support comes in at the 200-day moving average of 108.64, horizontal support hear 108.25 and overnight lows just below 107.70.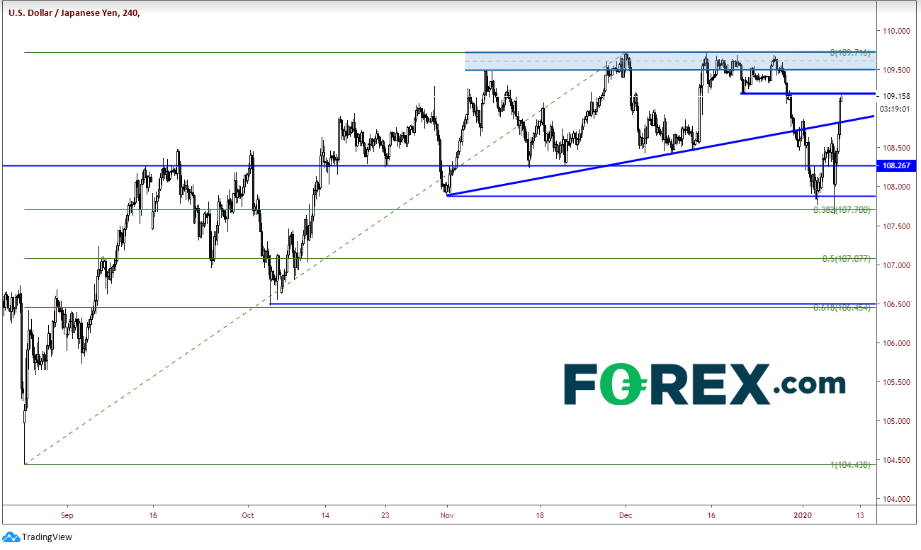 Source, Tradingview, FOREX.com
With the force of today's risk-on move, don't be surprised if breaks higher (with stocks) through the 109.50/70. Bears will look to sell near these levels with stops above. Bulls will look to buy on dips, while keeping an eye on the gap (on the daily) from early May between 110.90/111.00, especially if there is de-escalation between the US and Iran in the Middle East. This would also negate the rising wedge discussed earlier.